A difficult decision.
At Best Friends Animal Hospital, we offer on-site cremation services for pets. We know that animals are members of the family and we treat each pet's remains with the utmost respect and dignity. We offer a variety of cremation choices depending on the needs of the family.
The first choice in the cremation process is whether or not the family wants the ashes returned to them. We have two categories of cremation: GROUP and PRIVATE
In a GROUP cremation, pets may be placed in the cremation chamber with other beloved pets. Ashes from the pets are co-mingled and are spread in a peaceful country setting in Yellowstone County.
In a PRIVATE cremation, each pet is placed in the cremation chamber separately. The ashes are gathered and returned to the family.
If a family chooses a private cremation, the next step is choosing the type of urn for the ashes. We offer two choices in urns: blooming biodegradable and pewter urn.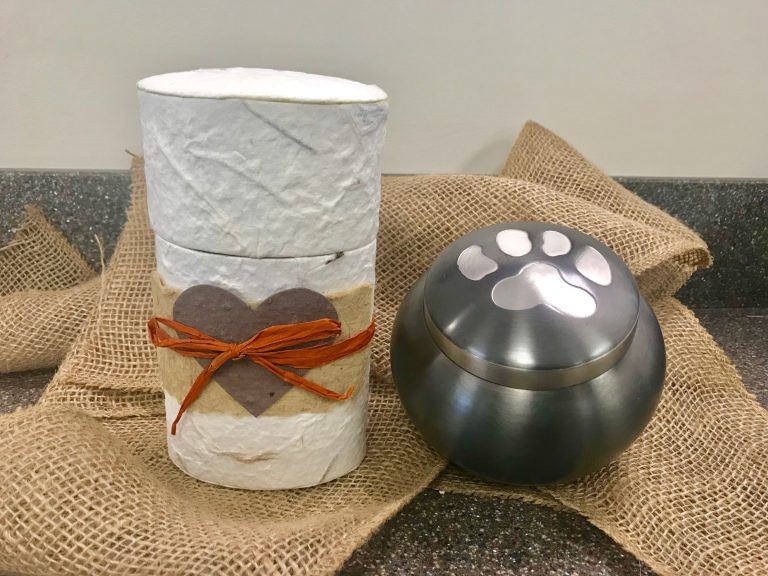 In the blooming biodegradable urn, the ashes are returned in a biodegradable bag inside a biodegradable box. This choice also comes with a seed-impregnated heart which can be planted at the burial site.
The pewter urn is a handsome, sturdy urn that has a lid which can be removed, if desired, to access the ashes.
All of our private cremations also include a clay paw-print impression which is returned to the family with the ashes.
Coping with Pet Loss
Pets are family and losing them comes with the same grief as any other loss. If you're struggling with grief following the loss of your pet, remember to:
Give yourself time to mourn and cry
Do your best to stick to your regular routine
Talk about your feelings with family, friends, or even our hospital staff
Memorialize your pet in a way that's special to you
You can use these resources if you need additional support:
Please reach out to us at (406) 255-0500 if there's anything we can do for you.