Toshiba Aquilion CT Scanner
For some time, we have wanted to add a cost-effective advanced imaging unit to our clinic to benefit the pets, clients, and Veterinarians in the Billings area. We are pleased to announce that we have added a new Toshiba Aquilion 16 slice helical computed tomography (CT) unit to our facility, as part of our recent expansion. Our 16 slice Aquilion scanner is the same one used at several veterinary teaching hospitals (Cornell University and Virginia Tech) and several veterinary referral centers.
The Aquilion CT machine significantly improves our imaging and diagnostic capability. Patients are placed on a table which advances into the gantry, which is a rotating tube that generates x-rays as it spins 360 degrees. A detector captures the beam and generates highly detailed cross-sectional images. The gantry can take 16 anatomical pictures at one time which allows visualization of entire regions of the body in a matter of seconds. Because the unit works so quickly, we can briefly sedate animals and generate high-quality diagnostic images of the body. The cross sectional images can easily be transformed into informative 3D images.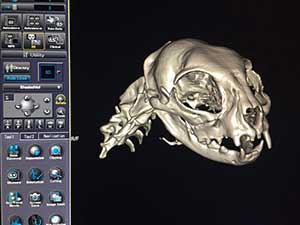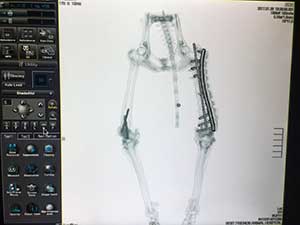 The digital CT images are sent to an off-site radiologist for review. We currently submit the CT images to Dr. Kenneth Waller, DVM MS DACVR, a board certified veterinary radiologist at University of Wisconsin School of Veterinary Medicine. Because the scans are so brief and all the images are digital, we usually have a comprehensive radiology report the same day the scan is generated.
Many patients that undergo a CT examination also receive intravenous (IV) contrast agents which highlight blood vessels and blood supply to normal tissues and tumors. We can use the CT to image almost any region of the body. Most frequently, our CT studies are made of heads, spines, elbows, as well as a wide variety of cancers and metastasis (spread of cancer).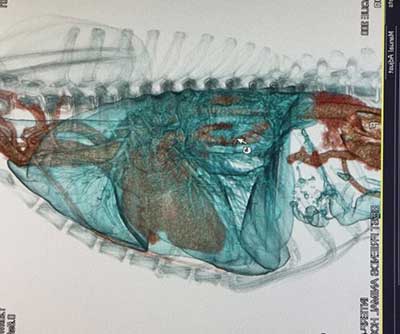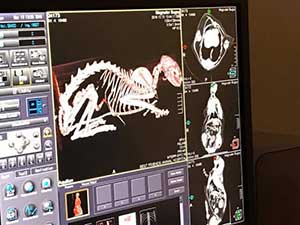 We are the only veterinary facility in Billings which has an in-house CT machine. We perform CT scans for our regular patients as well as referral patients from Montana, North Dakota, and Wyoming.
Please contact us with any questions: (406) 255-0500